TRANSSYS SOLUTIONS RECOGNIZED BY RESELLER MIDDLE EAST HOT 50 BEST CLOUD INTEGRATOR AWARD!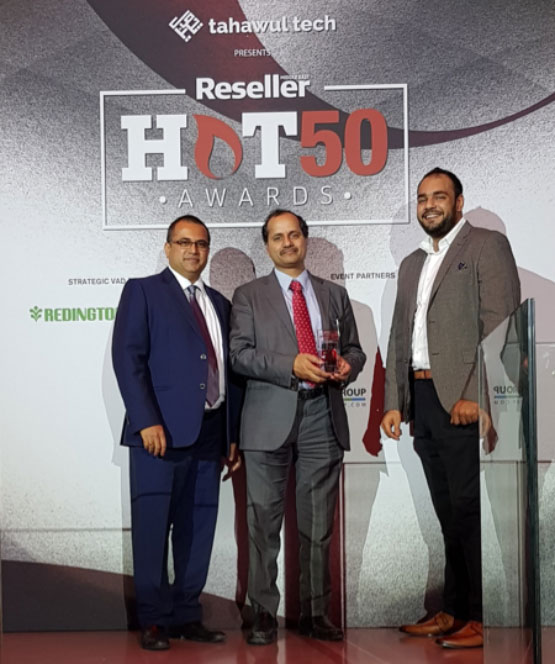 TransSys solutions was named "Best Cloud Integrator Award" by Reseller Middle East during the 2017 edition of its Hot 50 Awards. Following another stellar year of growth in this important region, we are honoured by this recognition! The award was well received by Prabu Balasubramanyan, Executive Director and Rohan Lasrado, Director Sales & Business Development, TransSys Solutions.
Reseller Middle East has paid tribute to channel players who are committed in creating value for their customers and partners at the sixth annual Hot 50 Awards. Honorees of the Hot 50 Awards 2017 were handpicked by the Reseller ME editorial team. The awards were presented to vendors, distributors, systems integrators, resellers and retailers in recognition of their excellence and continuous efforts in strengthening the regional IT channel landscape. The exclusive event, held last night at Nikki Beach Resort & Beach Club in Dubai, brought together over 150 key stakeholders from various industries across the region.
"We are proud to be recognized as an industry player and behind this success is our relentless drive to stay customer-focused. We believe this recognition further validates our commitment to our customers and their digital transformation needs. Transformation is driven by innovation and with a sharp focus on customer needs. Our transformation efforts principally aims at delivering modern best practices to achieve enhanced customer experience, driving operational excellency through a design driven delivery, all powered by a create cloud enabled, mobile enabled and analytics led enterprise solutions. We desire to constantly provide real business value and help customers achieve their goal" says Prabu Balasubramanyan, Executive Director, TransSys Solutions.
TransSys has demonstrated a tremendous commitment to its customers in the region by making significant contributions and investments in certified professionals and value-added services which in turn has significantly helped the customer in their digital transformation journey.
Contact Priyanka Gaigole,
Marketing Manager
marketing@transsyssolutions.com.
About TransSys Solutions TransSys Solutions is a global IT consulting and technology services Company focused on helping customers maximize value in their Information Systems by delivering unparalleled solutions and services. The company is focused on delivering transformational value to its customers through effective delivery of enterprise solutions. In the past 7 years, TransSys has worked with 120+ customers, in 30 countries, and has in the process established a leadership position delivering Oracle cloud solutions in the ECEMEA region. The company was awarded 4 awards in 2 weeks: ERP Partner of the Year - East Africa, CXM Partner of the Year – East Africa, HCM Partner of the Year – Gulf States & Saudi Arabia, ERP Partner of the Year – West Africa by Oracle in November. This is in addition Oracle Cloud Excellence Implementer recognition for CX track across Sales, Marketing & Customer Service achievement. To know more, visit:www.transsyssolutions.com.