TRANSSYS WINS "BEST CLOUD SOLUTION PROVIDER AWARD" FROM RESELLER MIDDLE EAST FOR THE SECOND CONSECUTIVE YEAR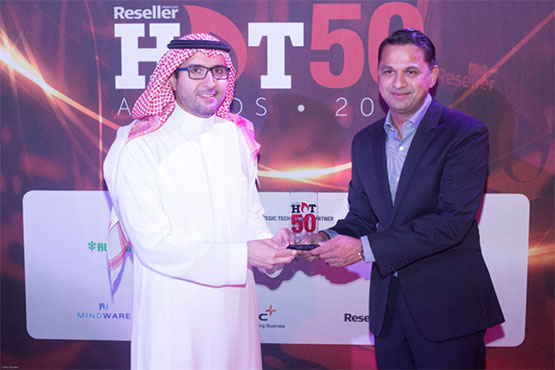 TransSys Solutions a leading regional IT consulting and technology services company sets a new milestone.

Dubai, UAE, November 27, 2016 – TransSys, announced that it has received the prestigious Reseller ME Hot 50 "Best Cloud Solutions Provider, 2016" Award for the second consecutive year. This award demonstrates the company's commitment towards consistently delivering comprehensive and innovative cloud solutions & services to its clients.
Reseller Middle East has paid tribute to channel players who are committed in creating value for their customers and partners at the fifth annual Hot 50 Awards. Honorees of the Hot 50 Awards 2016 were handpicked by the Reseller ME editorial team. The awards were presented to vendors, distributors, systems integrators, resellers and retailers in recognition of their excellence and continuous efforts in strengthening the regional IT channel landscape. The exclusive event, held last night at The Oberoi hotel in Dubai, brought together over 150 key stakeholders from various industries across the region.
"We are honored to accept this award from Reseller ME for the second consecutive year and are pleased to see our team receive this prestigious recognition", said Stephen Fernandes, Executive Vice President, TransSys Solutions. "Keeping pace with today's digital transformation landscape requires a deep understanding of industry solutions and best practices critical for our customers. This award demonstrates the extensive value that our solutions and services brings to our customers across industries."
Cloud and digital transformation are at the center of organisation's corporate strategy, to jump start from where they are today. TransSys is offering an innovative approach with RaDICS © (Rapidly Delivered Industry Cloud Solutions). RaDICS is an overall framework for delivering Industry specific solutions that focuses on Modern Best Practices, encompassing both the product and TransSys' recommended processes. This is offered as an industry specific framework viz. RaDICS © - Airlines, RaDICS © – Banking & Financial Services, RaDICS © - Telecom and RaDICS © – Real Estate.
Contact: marketing@transsyssolutions.com.
About TransSys Solutions TransSys Solutions is a global IT consulting and technology services Company focused on helping customers maximize value in their Information Systems by delivering unparalleled solutions and services. The company is focused on delivering transformational value to its customers through effective delivery of enterprise solutions. In the past 6 years, TransSys has worked with 120+ customers, in 30 countries, and has in the process established a leadership position delivering Oracle cloud solutions in the ECEMEA region. The company was awarded the ICT Achievement System Integrator of the Year in November 2016 by CNME. This is in addition to winning 7 awards from Oracle in the previous years. To know more, visit www.transsyssolutions.com or contact us at info@transsyssolutions.com