Solix Partners with TransSys Solutions to Deliver Enterprise Archiving and Data Lake for Advanced Analytics
TransSys Solutions, a leading digital transformation solutions partner with strong presence in ECEMEA and ASEAN regions to distribute Solix Common Data Platform and Solix EDMS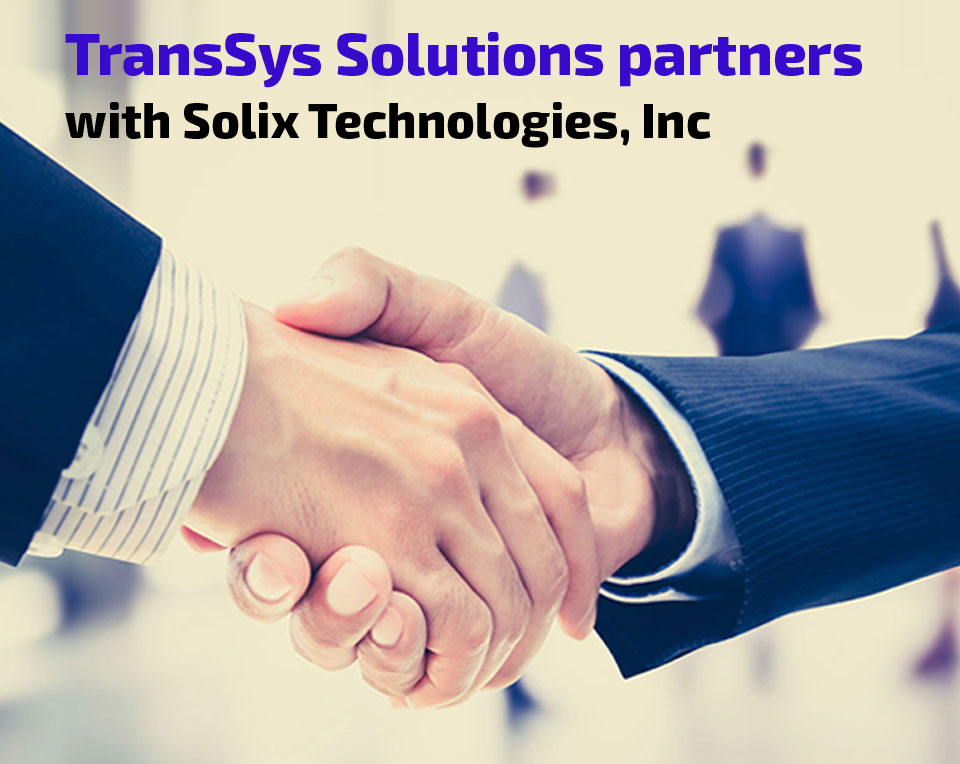 June 05, 2018 — Santa Clara, Calif. — Solix Technologies, Inc., a leading big data application provider for empowering data-driven enterprises, today announced a partnership with TransSys Solutions (transsyssolutions.com), an Oracle Cloud Select Platinum Partner and global consulting and technology services company, to provide comprehensive data management and archiving solutions.
TransSys Solutions will offer the Solix Common Data Platform and Solix Enterprise Data Management Suite (EDMS) to its customers, providing support for enterprise archiving, data lake, application retirement, and advanced analytics on low-cost Apache Hadoop.
According to the April 2018 Forrester report, Now Tech: Big Data Fabric, Q2 2018, "Business users want real-time integrated data from various data sources, including legacy data, social media, sensor data, and weblogs, so they can make accurate business decisions. However, the gap between business expectations and the challenges of supporting technologies in a big data platform has become the primary motivation to innovate with a big data fabric architecture."
Apache Hadoop is an ideal common data platform for big data applications because it offers low-cost bulk data storage and advanced analytics applications on an enterprise scale. By processing large data sets in parallel on commodity hardware, Apache Hadoop is able to reduce infrastructure costs up to 50 times for nearly any workload.
"With continued growth of systems, organizations in the region need to adopt strong data management technologies to both optimally manage the data and extract valuable information and intelligence out of them. Our partnership with Solix intends to help customers in the region adopt the robust and comprehensive solutions of Solix in the space of Enterprise Data Management. The selective list of partner solutions that we at TransSys represent is built on our understanding of the customer's needs in the region and the strategic advisory role we are expected to play" said Prabu Balasubramanian, Executive Director of TransSys.
"Our partnership with TransSys will empower enterprises within the greater MEA regions with a common data platform," said Sai Gundavelli, Founder/CEO, Solix Technologies. "We look forward to working with TransSys and its customers."
The Solix CDP is cloud-ready software. Key capabilities include:
Object Workbench: Uniform data collection of structured and unstructured data, ETL and metadata repository.
Data Governance Workbench: Sensitive data discovery, data masking and encryption, role based access control, retention management, ILM, GDPR, PHI, PCI and FISMA compliance frameworks
Analyst Workbench: Data preparation, data visualization, search, business intelligence and analytics
Enterprise archiving and data lake: Real-time data hub architecture for scalable processing with low cost bulk data storage
CDP API 1.0: Certified API support for Solix App Store solutions
S3 storage support: API support for Amazon S3 (Simple Storage Service).
To learn more about the Solix Common Data Platform,
click here
.
To learn more about Solix EDMS,
click here
.
About Solix Technologies

PSolix Technologies, Inc., is a leading big data application provider that empowers data-driven enterprises with optimized infrastructure, data security and advanced analytics by achieving Information Lifecycle Management (ILM) goals. Solix Big Data Suite offers an ILM framework for Enterprise Archiving and Enterprise Data Lake applications with Apache Hadoop as an enterprise data repository. The Solix Enterprise Data Management Suite (Solix EDMS) enables organizations to implement Database Archiving, Test Data Management (Data Subsetting), Data Masking and Application Retirement across all enterprise data. Solix Technologies, Inc. is headquartered in Santa Clara, California and operates worldwide through an established network of value added resellers (VARs) and systems integrators. To learn more, please visit http://www.solix.com
About TransSys Solutions

TransSys Solutions, an Oracle Cloud Select Platinum Partner is a global consulting and technology services company focused on helping customers maximize value of their IT investments, by delivering unparalleled solutions and services. TransSys believe innovation and transformation are at the core of any successful business and help you design future-ready solutions aimed at empowering companies to achieve greater heights in today's challenging business landscape. The company is focused on delivering transformational value to its customers through effective delivery of enterprise solutions. In the past 8 years, TransSys has worked with 200+ customers, in 30 countries, and has in the process established a leadership position delivering Oracle cloud solutions in the ECEMEA and ASEAN region. To learn more, visit www.transsyssolutions.com
Connect with Solix

Visit our website: http://www.solix.com
Follow us on Twitter: @solixbigdata
Join us on Facebook: http://www.facebook.com/solixtechnologies
Follow us on LinkedIn: https://www.linkedin.com/company/966
Press Contact

Zach Taiji
PulpPR for Solix
zach@pulppr.com
Connect with TransSys Solutions

Visit our website: https://www.transsyssolutions.com
Follow us on Twitter: @teamtranssys
Join us on Facebook: https://www.facebook.com/transSyssolutions/
Follow us on LinkedIn: https://www.linkedin.com/company/transsys-solutions/
Priyanka Gaigole

Marketing Manager,
TransSys Solutions
marketing@transsyssolutions.com