TransSys Solutions awarded "Best Cloud Solutions Integrator of the Year"
Recipient of this prestigious award for 3rd year in a row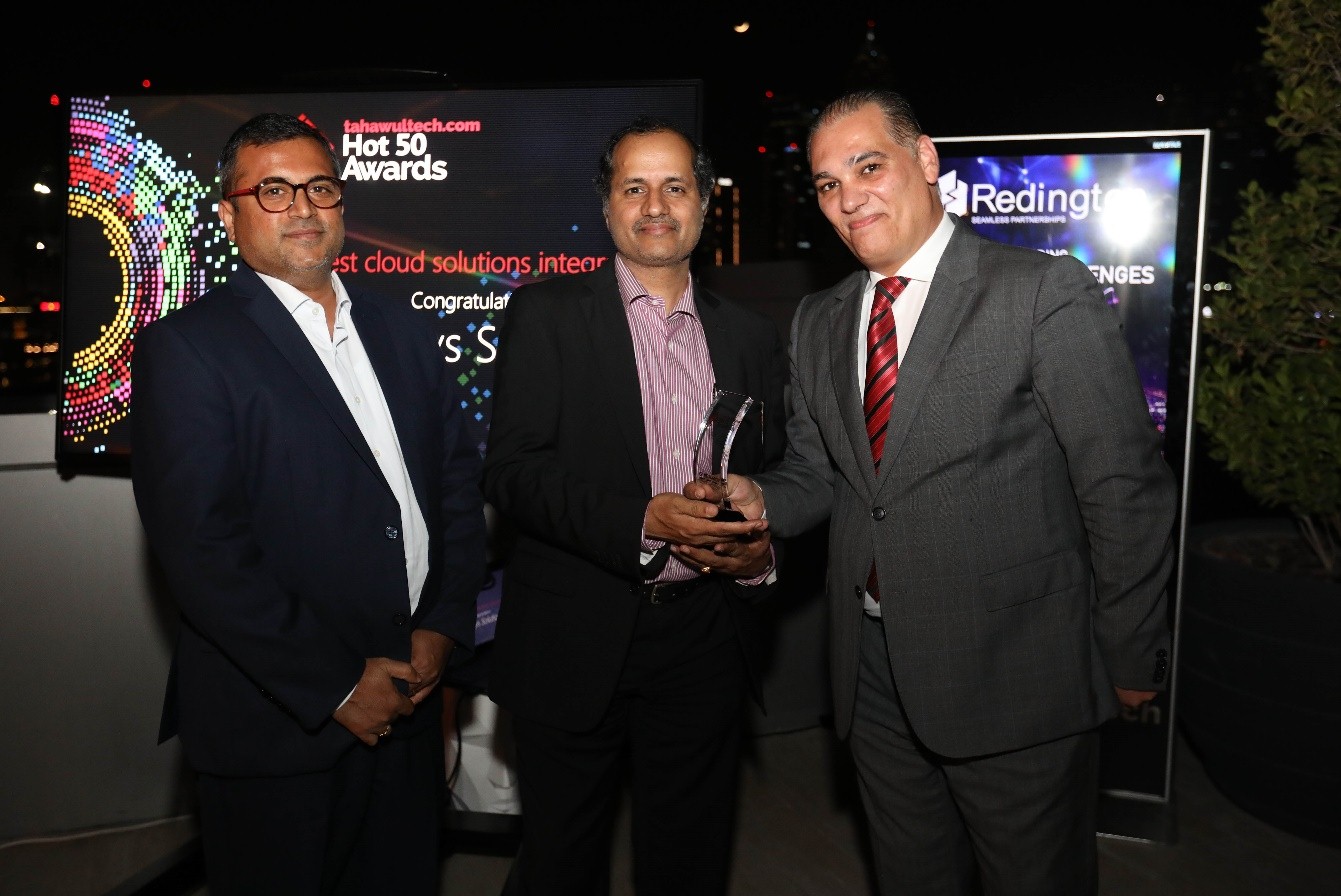 Prabu Balasubramanyan Executive Director & Rohan Lasrado Director Sales & Business Development while receiving the award.
TahawulTech.com and Reseller Middle East 2018, Dubai: We are excited to announce that TransSys Solutions has been recognised 'Best Cloud Solution Integrator". Reseller Middle East hosted its seventh annual Hot 50 Awards at the open-air restaurant BHAR, Renaissance Downtown Hotel against the Dubai skyline in the background on December 11, 2018.
The most-coveted Awards gathered key players across vendors, distributors, resellers and systems integrators together on one platform. The 150 plus guests had an opportunity to network and applaud the achievements of the year. The exclusive event paid tribute to channel players who are resolute in their strategies to craft value and equally successful relationships for customers, partners and themselves. Selected by tahawultech.com's and Reseller Middle East's editorial team, we would like to congratulate the other elite winners that had shaped the regional channel business through innovative initiatives and grew their operations despite challenging market circumstances.
"TransSys Solutions stays deeply invested in helping organizations in the region to adopt digital technologies in their quest to transform. Recognition by the Tahawultech Hot 50 Awards is a testament to our focus and efforts on helping organizations to navigate and digitally transform, plus our commitment to the region. We would like to congratulate other winners and too delighted as Oracle was awarded as Best Cloud Applications Provider as well" says Prabu Balasubramanian, Executive Director, TransSys Solutions.
About TransSys Solutions

TransSys Solutions is a global IT consulting and technology services Company focused on helping customers maximize value in their Information Systems by delivering unparalleled solutions and services. TransSys is a leading Oracle Platinum, Cloud Select Partner and Oracle Cloud Excellence Implementer (CEI) focused on delivering transformational value to its customers through effective delivery of enterprise solutions. In the past 8 years, TransSys has worked with 200+ customers, in 30 countries, and has in the process established a leadership position delivering Oracle cloud solutions in the ECEMEA and ASEAN region. To learn more, visit www.transsyssolutions.com
Connect with TransSys Solutions

Visit our website: https://www.transsyssolutions.com
Follow us on Twitter: @teamtranssys
Join us on Facebook: https://www.facebook.com/transSyssolutions/
Follow us on LinkedIn: https://www.linkedin.com/company/transsys-solutions/
Priyanka Gaigole

Marketing Manager,
TransSys Solutions
marketing@transsyssolutions.com