TransSys Solutions Wins Prestigious Oracle Excellence Award for Specialized Partner of the Year – EMEA in Cloud First
Oct 20, 2018 Today Oracle awarded TransSys Solutions with its 2018 Oracle Excellence Award for Specialized Partner of the Year – EMEA in Cloud First.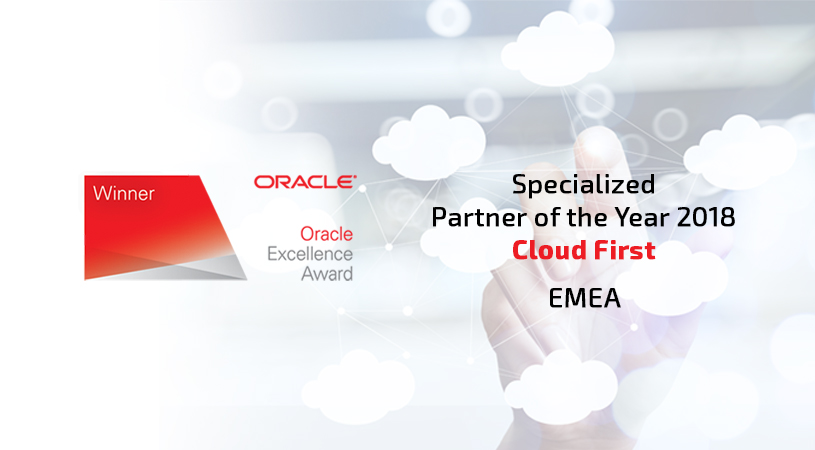 The Oracle Excellence Awards for Specialized Partner of the Year – EMEA recognizes TransSys Solutions for their outstanding work in driving customer success with Oracle Cloud offering including SaaS, IaaS and PaaS. Oracle partners accelerate innovation and customers upgrade to the cloud. From business planning and implementation, to connectivity and data center services, Oracle Partner Network (OPN) members provide the support and services needed to maximize the value of Oracle Cloud solutions for customers' organization.
Oracle Partner Network offers its members unique opportunities to accelerate and expand their business. Oracle would like to highlight OPN members who are highly experienced and skilled in taking its customers on a successful path to the cloud.
TransSys Solutions is a CLOUD Select Platinum level member of Oracle Partner Network (OPN). TransSys Solutions was presented the 2018 Oracle Excellence Award for Specialized Partner of the Year – EMEA in Cloud First for demonstrating an outstanding and innovative solution based on Oracle products. The Oracle Excellence Awards for Specialized Partner of the Year – EMEA encourages innovation by Oracle Partner Network (OPN) members, who use Oracle's products and technology to create value for customers and generate new business potential.
ECEMEA is a priority market and digital transformation is the key focus for TransSys Solutions. Over the last 8 years, we have brought solutions to enterprises in the region that are designed to achieve digital transformation. We have also made investments in building horizontal and Vertical SaaS IP extensions which differentiates us. Our rapid delivery models and accelerators help customers facilitate predictable outcomes. Our ACE – Adopt Cloud Effectively offering have helped in increasing user adoption, cloud renewal, cloud support and managed services in the region.
We are excited to receive this award as it recognizes our continued focus on innovation and excellence across the entire customer lifecycle delivering cloud solutions. TransSys had continually invested in building niche vertical and horizontal solutions in our quest to enable our customers achieve digital transformation and this award further re-enforces our commitment to the customers and Oracle, and recognizes the successful engagements delivered by us. It is a honor and privilege to receive this award as it also reflects our ability to help customers adopt Oracle Cloud applications and technologies to create scalable, agile organizations capable of realizing a whole new world of possibilities" says, Prabu Balasubramanyan, Executive Director, TransSys Solutions.
"TransSys Solutions has demonstrated an outstanding level of innovation in delivering proven, Oracle-based SaaS and PaaS solutions that solve our joint customers' most critical business challenges," said Javier Torres, Vice President Alliances & Channels Oracle EMEA. "We congratulate TransSys Solutions in achieving the 2018 Oracle Excellence Award for Specialized Partner of the Year – EMEA in Cloud First. This achievement is a testament to their dedication to excellence and to providing customers innovative Oracle Cloud solutions & services that drive real business value and results." TransSys and Oracle are committed to bring innovative solutions to our customers and help them become industry leaders. and to transform into digital organizations.
About TransSys Solutions

TransSys Solutions is a global IT consulting and technology services Company focused on helping customers maximize value in their Information Systems by delivering unparalleled solutions and services. TransSys is a leading Oracle Platinum, Cloud Select Partner and Oracle Cloud Excellence Implementer (CEI) delivering transformational value to its customers and helping them achieve digital transformation. In the past 8 years, TransSys has worked with 200+ customers, in 30 countries, and has in the process established a leadership position delivering Oracle cloud solutions in the ECEMEA and ASEAN region. To learn more, visit www.transsyssolutions.com
Connect with TransSys Solutions

Priyanka Gaigole
TransSys Solutions
marketing@transsyssolutions.com
Visit our website: https://www.transsyssolutions.com
Follow us on Twitter: @teamtranssys
Join us on Facebook: https://www.facebook.com/transSyssolutions/
Follow us on LinkedIn: https://www.linkedin.com/company/transsys-solutions/
About Oracle Partner Network

Oracle Partner Network (OPN) is Oracle's partner program that provides partners with a differentiated advantage to develop, sell and implement Oracle solutions. OPN offers resources to train and support specialized knowledge of Oracle's products and solutions and has evolved to recognize Oracle's growing product portfolio, partner base and business opportunity. Key to the latest enhancements to OPN is the ability for partners to be recognized and rewarded for their investment in Oracle Cloud. Partners engaging with Oracle will be able to differentiate their Oracle Cloud expertise and success with customers through the OPN Cloud program – an innovative program that complements existing OPN program levels with tiers of recognition and progressive benefits for partners working with Oracle Cloud. To find out more visit: http://www.oracle.com/partners.